Susan Boyle Invited Onto Oprah (Why, God, WHY?!)
And who said the reality tv bubble was set to burst?
Sure, we've all been subject to the law of diminshing returns (or reruns), but up crops Herman Munster/Muppet offspring Susan Boyle and suddenly there's nothing hotter in watercooler gossip-gabble.
Following Susan's 'shocking' debut on Britain's Got Talent last week, she has since sung to millions on Good Morning America and is now set to appear on the Oprah Winfrey Show.
Which means she is now officially more famous than Robbie Williams. Funny, sure, but we're sorry – we just don't get it.
Yippee – she can sing. And she's ugly. A little surprising, sure, but why the hell is Queen of the Universe Oprah deciding to bless her with her (no doubt satanically sourced) seal of approval?
We understand fuglies aren't the most well-represented minority in today's image-conscious society, but it's not a freakin' disability. Doesn't anyone else think this more than a little patronising?
Oh sweet merciful Zeus (Or Oprah – same thing in America). Is Susan Boyle our new Leona Lewis?
You know the 'Bleeding Love' video?
Now imagine the Boyle-meister recreating it.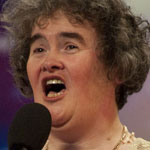 Phwoar.
What do you think? Are we completely off-base? Does she deserve a blossoming music AND movie career? Or has this reality thing just got too out of hand? Sound off below….